No one will question that the Commander-in-Chief's Trophy matchups are the top games on the schedule for the various service academies. When those are taken out of the equation, however, which games on the 2017 slate would be seen as the most important or most intriguing?
The countdown to the start of the season is well and truly underway and today we look at the top 5 games involving service academies coming up this fall.  All these contests present challenges for those who bet on sports:
Army at Ohio State – September 12

There is an obvious division when it comes to ranking schools ahead of the 2017 season. Alabama, Florida State, Ohio State, and USC are the unanimous choices for the top four spots (in some order) in every publication and poll. Only one of those schools faces a service academy this fall, so the clash between Ohio State and Army had to be on this list.
This is not a game Army will be expected to compete in. It would surprise no one if the line for this at kickoff had the Black Knights as more than a four-touchdown underdog. It is, though, a rare chance for a triple-option attack to take on one of the top programs in the nation. Ohio State will throw the ball all over the place – and they will be expected to challenge for a College Football Playoff spot – but seeing Army suit up in the horseshoe will be epic.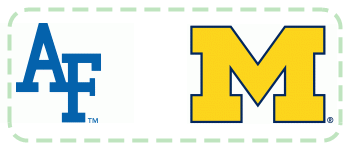 Air Force at Michigan – September 16

Another game that sees an Academy take on one of the Big Ten's traditional powers will take place four days later when Air Force travels to Ann Arbor to take on Michigan. This game is in an interesting spot for Michigan as they open the season at Jerry World in Dallas against Florida and then have their Big Ten opener at Purdue a week after facing the Falcons. In that context, this could easily be looked at as a trap game.
Michigan is a team hovering just inside the top 10 spot in most preseason ranking lists. The Wolverines lost a ton from 2016, but Jim Harbaugh is riding a pair of top 10 recruiting classes into the 2017 season. Air Force catches Michigan early enough in the season that this dark horse national title contender may not yet be firing on all cylinders.
Navy at Memphis (October 14) and Navy at Houston (November 24)
This might be cheating just a touch, but Navy's has a couple of brutal road trips to take in conference play this year. The Mids have to travel to Memphis in October and then Houston in November, the latter game completing Navy's conference schedule on the day after Thanksgiving.
What makes these two matchups stand out is that Houston and Memphis are two of the three teams in the top tier of the AAC (along with USF) as we head towards the season. While both programs have changed head coaches in the past 18 months – with Tom Herman leaving Houston for Texas making huge waves in the state – there is no reason to expect a big drop off and Navy will have to be at its best to compete.
Navy at Notre Dame – November 18

Notre Dame went 4-8 last year and one of those losses was to Navy. That the Irish slipped so far under Brian Kelly is shocking and even the coach that took Notre Dame to the brink of a national title could not survive another losing season. Especially when you consider that it was just the second time since 1963 that Notre Dame finished with less than five wins.
The bad news for Navy is that statistically speaking the Irish fell apart while still being a good team in all the advanced metrics. Navy has a brutal schedule in 2017 and if the AAC proves to be a bridge too far, then a win over a resilient Notre Dame squad would help the season look better.