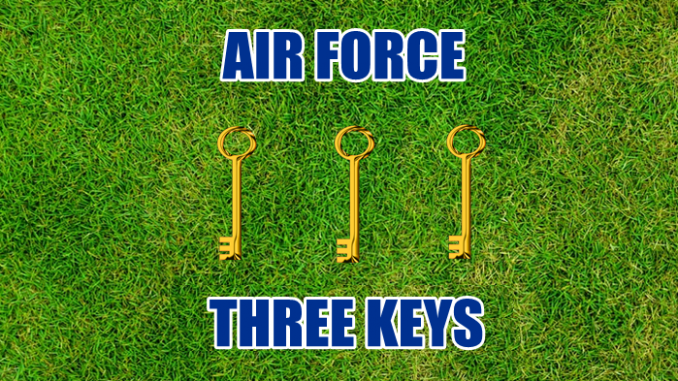 Air Force football visits Colorado on Saturday in Boulder. Here are your three keys to an Air Force win over Colorado.
Key 1 – Donald Hammond on fire
Two weeks ago in the opening win over Colgate Air Force quarterback Donald Hammond was very effective leading the Falcons to a 35-0 halftime lead before taking the remainder of the game off. Despite running for just 26 yards in the game, Hammond scored three touchdowns. He is currently ranked second in the nation in points scored (18). To win, the Falcons need for Hammond to perform in a similar manner against the Buffaloes.
Key 2 – Stop Steven Montez
Stopping opposing quarterbacks is usually a big key in any team's game planning. It's no different in this game. Montez engineered the big rally over Nebraska last week. With his team trailing 17-7 at the start of the fourth quarter, his school-record 96-yard touchdown pass got the Buff rally going. He's thrown for 607 yards in Colorado's first two games and completed 67.2% of his passes. The Falcons have got to slow him down some and force some punts or it is going to be a long day.
Key 3 – Win in the fourth quarter
Last week in the fourth quarter of their win over Nebraska, the Buffaloes rattled off 258 yards and 24 points of offense. This is something that Air Force can't allow to happen on Saturday. It's important that Falcon seniors like defensive lineman Mosese Fifita and linebacker Kyle Johnson keep the younger players focused on stopping the Buffs. Some of this falls on the Air Force offense and their ability to burn up the clock and limit Colorado possessions.
Air Force can win this game if the option is working well. We'll know after the first couple drives if the Buffs are capable of stopping it. Colorado gives up 31 points per game. They are probably still thinking about their big comeback win. Meanwhile, Air Force has had a bye week to facilitate additional preparation. This could be a trap game for the Buffaloes and a win for the Falcons.
Saturday's game kicks off at 11 am MT. Watch on the Pac-12 Network.