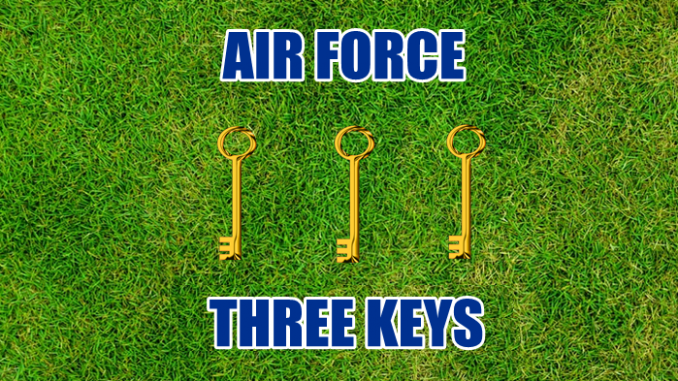 Air Force visits Navy on Saturday in Annapolis, MD. Here are your three keys to an Air Force win over Navy.
The Falcons travel to Annapolis in good stead with their 3-1 record in 2019. That record includes the fantastic 30-23 overtime victory over Colorado and a bounce-back win over San Jose State last time out. Navy will be fresh and will be looking to rebound after suffering its first loss of the season against Memphis a week ago on Thursday.
Key 1 – Control time of possession
Controlling the clock is always important in a battle against Navy. For proof of this, you need only look back the Memphis game that Navy played late last month. In that game, the Mids controlled possession and tempo in the first half and they were on track to finish with over 40 points and over 500 yards of offense. In the second half, the Memphis defense stiffened, mistakes crept in, and Navy went off schedule. The result was a 35-23 loss.
If Air Force can control the clock and dictate the tempo of the game, then the Falcons will be in with a great shot of winning here.
Key 2 – Win the rushing battle
The key here is to win the rushing battle. These are the top two rushing teams in the nation by yards per game, with Navy slightly ahead as they rush for 344.7 yards per game to 332.8 yards per game put out by Air Force. Their offenses are similar, but different, and the fact that these two play every year means that very little about an offensive game plan is going to be a surprise.
This is all going to be about execution, with the Falcons' offensive line needing to step up and create lanes for QB D.J. Hammond and his backs. Navy will be throwing the dangerous Malcolm Perry at Air Force, so gap containment and smart decisions will be huge defensively.
Key 3 – Win the turnover battle
Winning the turnover battle is the easiest way to win a football game. In nose tackle Mosese Fifita and linebacker Lakota Wills, Air Force has a couple of big time defenders who are going to cause havoc to the Navy offense. Option teams find it hard to score quickly, so if Air Force can create a couple of fumbles in the early going and get a lead then this isn't a Navy team that has any shot of running the Falcons down if they play mistake-free football.
Saturday's game kicks off at 3:00 ET. Watch on the CBS Sports Network.