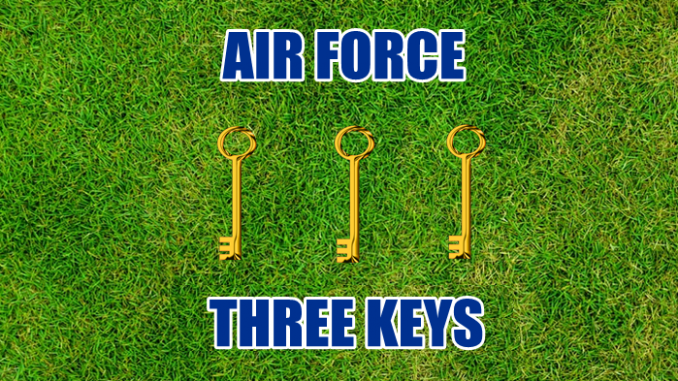 Air Force meets Fresno State on Saturday in Colorado Springs, CO. Here are your three keys to an Air Force win over Fresno State.
By Steve Wright
The Falcons are back at home this Saturday as they face a dangerous Fresno State team. Air Force will look to rebound quickly from the disappointing 34-25 loss at Navy last time out.
Key 1 – Pound the ball
Air Force needs to keep it simple and not get fancy against a Fresno State team that is solid in all areas without being exceptional at anything. That means running the ball, controlling the time of possession, and not making mistakes or bad decisions in the option game. Fullback Taven Birdow is going to be a key as his 378 yards on the ground are the glue that keeps the offense together. Pounding the ball with inside handoffs early will allow the edges to open up as the game develops.
Key 2 – Don't be afraid to throw
The interesting aspect of this offense is that Donald Hammond III does know how to throw the ball. He was excellent against Colorado when he went for 155 yards and a pair of scores on 7-of-12 passing. The Air Force passing attack works best when the Falcons are either ahead or in touching distance of the opponent. If the Falcons can keep pace with Fresno State early, or even get a score or two up, then the pass becomes a much more viable component of the offense.
Key 3 – Be aware of Mykal Walker
Walker is the Bulldog's best player on defense. He is also sometimes the hardest to find as Fresno State will line him up anywhere in the front seven with the exception of defensive tackle. He is listed as a middle linebacker this season, but Walker has played just as many snaps at defensive end, getting after the quarterback with a sole mission of making havoc plays. He averages almost 10 tackles per game and getting a body on Walker on every offensive snap, no matter where he lines up, is going to be a massive key.
Saturday's game kicks off at 5:30 PM MT. Watch on the CBS Sports Network.