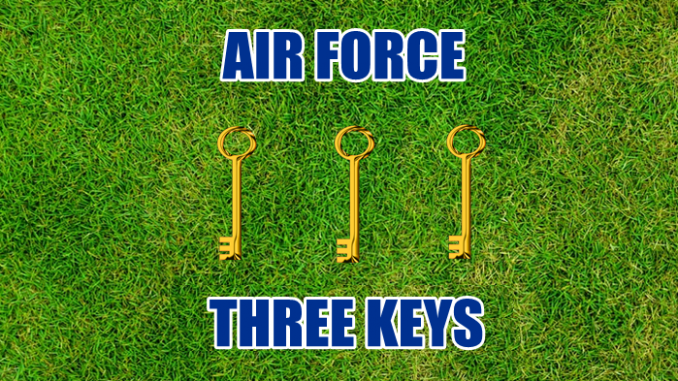 The Air Force Falcons (7-2) are back in action this week after the clash with New Mexico was called off a week ago due to the death of a Lobos player. Their opponent on Saturday will be Colorado State (4-5).
Here are the three keys:
Win in the red zone
Air Force will pile up the rushing yards against the Rams. The team is second in the nation in rushing at 323 yards per game with fullback Timothy Jackson rushing at over six yards per carry. When you consider Cole Fagan has 260 yards rushing from the fullback spot against Colorado State last year it is hard to see how the Rams stop Air Force rumbling up and down the field at will.
That is why the red zone will be important. Their game plan will be to give up meaningless yards between the 20-yard-lines, before stiffening in the red zone and forcing the Falcons' drive to stall. Punching the ball into the end zone is a huge key.
Keep the defense tight
The Falcons are riding a four game winning streak and as much as the offense has dominated during that period it is the defense that has really stepped up. Over the last four games, the Falcons have scored 36.8 points per game while only allowing 17.5 ppg. Part of that is the low possession style that the Falcons run – a style which severely limits the ability of the opponents to have the ball and get into a groove – but part of it has just been that the defense is playing at a very high level.
Colorado State is a team that can score. They average 31.7 points and almost 470 total yards per game this season. So it is the defense – and the secondary in particular – that will need to come out hot on Saturday.
Win on third down
Perhaps even more important than red zone efficiency will be the ability of the Falcons to win on third down. The Rams are 13th nationally in third down defense where they allow opponents to move the chains only 32% of the time. That is a big reason why they have won a couple of games in a row and why they are vastly improved in conference play from the team that started out the year.
The Rams are making teams work for things by being ahead of the chains on defense. Their strength is through the air – which obviously won't bother Air Force – but the Falcons know that their ability to sustain drives will be important at Canvas Stadium