Army and Navy both defend our country, but if one had to choose a specific plot point for the 2019 Army-Navy Game, the 120th edition of this American sports classic, Army is the team whose defense will stand in the spotlight.
By Matt Zemek
This isn't meant to suggest that Navy's defense doesn't matter; of course it will. However, the richer source of intrigue and the more compelling dimension of drama in this game will emerge when Navy has the ball and Army tries to stop the Midshipmen. Why say this? A few simple reasons rise to the forefront of the conversation before Saturday's kickoff in Philadelphia.
The first and most basic detail to note about the Army-Navy Game, as it arrives at the end of a calendar decade, the 2010s, is that the past nine Army-Navy Games have usually been low-scoring.
The first two games of the decade, in 2010 and 2011, were the highest-scoring Army-Navy Games of the decade… and had 48 total points. The only other game to reach 40 total points was 2013, when Navy scored 34 of 41 points in a 34-7 beatdown.
Normally, the 2010s have provided close, tense, defense-first football. Four times this decade, 17 points has been enough to win Army-Navy. If you look at the last five Army-Navy Games, two of them have been 17-10 finals, with each side winning once. Two of the other five have been 21-17 finals, with each side winning once. The 2017 game was a 14-13 final for Army.
Germane to this 2019 game is the 2015 edition of Army-Navy. That was the last time Navy had a chance to win 10 regular-season games with a victory over Army. Not coincidentally, that was the last time Navy had an especially gifted quarterback. Keenan Reynolds played his last Army-Navy Game that year, putting the finishing touches on a decorated Annapolis football career.
Reynolds did win that 2015 game, but Army limited Navy to 21 points and created a very tense finish. With the exceptions of the 2013 Navy blowout and the 2013 Navy win which turned on a 98-yard fumble return by the Mids, this decade has featured one close game after another. Seven of the nine games played this decade have been decided by one score (seven points or fewer, to be precise).
Much as Army, when far from the height of its powers, nearly toppled one of Navy's very best teams in 2015, a weak Navy team in 2018 pushed a great Army team through four full quarters. Army kept playing Navy close when it was inferior in the first half of the decade; Navy regressed as a program in the second half of the decade but still gave Army a tough fight.
Now, in 2019, the script has flipped back to a 2015 reality, with Navy having a chance for an 11-win season once again, a year after Army registered that very feat.
Army contained Keenan Reynolds in 2015. Can it contain Malcolm Perry in 2019?
Reynolds never lost to Army, but Perry has never beaten the Black Knights. It hasn't been for lack of trying. Perry was the best offensive player on the field for either side in the 2017 game, which was marked by a snow-covered field in Philadelphia. Perry drove the Mids into field goal range, but two false-start penalties on Navy created a long field goal instead of a medium-length field goal. The kick was hit well, but it was just wide of the upright, and Army survived.
Perry will take the memory of that miss into Saturday's game. He will take it upon himself to finally break through against Army… but if the Black Knights stand tall, "Commodore" Perry's ambitions could be frustrated once again.
The number 21 is significant in blackjack… and in recent Army-Navy Games. In the past 20 meetings between these teams – 1999 through 2018 – a team scoring more than 21 points has lost only twice, in 2000 and 2005. An 18-2 record makes "21" the threshold both offenses will try to exceed. Perry doesn't have to light up Army's defense the way he smoked Houston's defense in a 56-41 triumph, but if he can get at least 28 points – ideally, 30 – Navy should walk off the field a winner after singing second.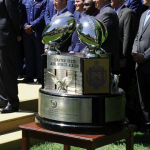 The other simple reason Army's defense – not its offense – is more prominent in this game is that Army's best performance of 2019 came in the other Commander In Chief's Trophy game of the season, at Air Force. Army traded blows with Air Force, playing the Falcons on even terms in a road game. Army was seven yards from winning the game in the final minutes but suffered an injury to throwing quarterback Jabari Laws at the worst possible time. Army had been pushed around by a number of teams in October, leading up to the Air Force game. That day was a moment of truth for Jeff Monken's team, and even though it didn't win, it certainly answered the call and played with the toughness displayed by the previous teams (2016, 2017, 2018) which defeated Navy and ushered in a new dawn of hope in West Point.
Army's success against Navy has been a defense-first story, and yet the Midshipmen enter this game having posted 56 on Houston and 35 on SMU. Meanwhile, Army – perhaps realizing that Hawaii's style of offense would not serve as true preparation for what Navy does – allowed 52 points to the Rainbow Warriors on Nov. 30.
Purely in terms of the matchups, Navy's offensive line – which was pushed around last year but has regrouped this year – ought to do reasonably well against Army's front seven. However, having the better matchup on paper doesn't easily translate to a comfortable victory in this series, if only because the intensity of an Army-Navy Game dwarfs the intensity shown during the previous 11 games of this or any other college football regular season.
Army isn't playing Hawaii on Saturday. It is playing Navy. The matchups might point to success for Navy, but the history of this game – especially in the past decade, and even more especially when Navy has had a great quarterback – tells us the Midshipmen should take absolutely nothing for granted and cannot be seen as a heavy favorite. A slight favorite, according to this week's game stats, but not a team which should win going away.
Army's defense will probably play above its 2019 standard, much as it did against Air Force. If that is the case, can Malcolm Perry respond with the resilience he has displayed all season? The Army offense and Navy defense are not irrelevant to the workings of the 120th Army-Navy Game, but the Black Knights' defense against Commodore Perry certainly deserves top billing. We will see who steals the show in Philadelphia… and sings second.