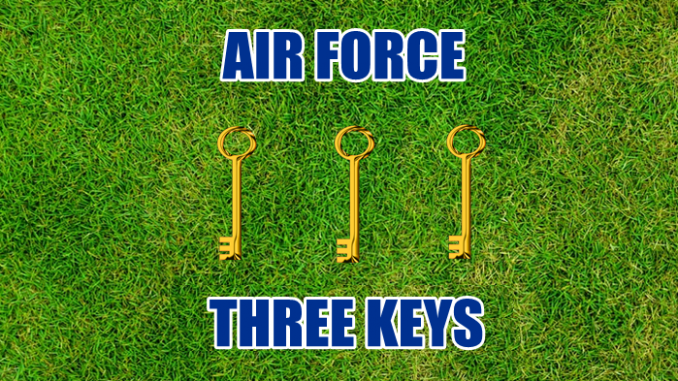 The Air Force Falcons (10-2) reward for a double-digit win season is a stylistically clashing match with the Washington State Cougars (6-6).
Here are the three keys:
Run the ball hard
The fact that the Falcons were able to run the ball so effectively in Mountain West play bodes well for the team here. Air Force was able to rush for almost 300 yards a game against defenses that knew the option was coming and that have faced it year after year. This familiarity often leads to issues running such a schematically basic formation, but that didn't happen in 2019.
Washington State has no familiarity with the triple-option at all. No one in the Pac-12 runs anything even remotely similar to the Air Force offense, and this isn't a team that ever schedules the likes of Army or Navy. Air Force should have a field day on the ground against a defense that is more finesse than physical as it has been built to win in a passing league.
Contain the pass
The Mike Leech Air Raid attack is in full force in Pullman, Washington. This is an offense that throws the ball on seemingly every play, with quarterback Anthony Gordon having chucked his way to 5,228 yards on the season. He is the leading passer in the nation by a massive margin and he has thrown 45 touchdown passes this year.
The problem for Gordon and the Cougars is that this is not the precision offensive attack of an LSU. Gordon has also thrown 16 interceptions on the year, including nine in his last five contests after starting the season with some layup games. The Falcons' defense doesn't have to be lockdown – the Air Force offense will score enough to negate that – but the defense does need to step up and take the ball away a time or two in what could be a shootout on the scoreboard.
Hold the ball for 35+ minutes
This is going to be a game of tempo. If Air Force controls how the game is played – the speed at which stuff is done – then the Falcons win. When the Air Raid is working well it is a good offense for sustaining drives. That hasn't been happening recently as the boom or bust Cougars either score too quickly – admittedly a good problem to have – of flame out on four or six plays in a series while eating up no clock.
The Cougars defense is going to get tired of tackling the Falcon's fullbacks and chasing down the slot backs. They are going to need time to rest, but if Air Force holds the ball for 35 minutes or more then that rest doesn't happen and Air Force wins by a couple of scores.