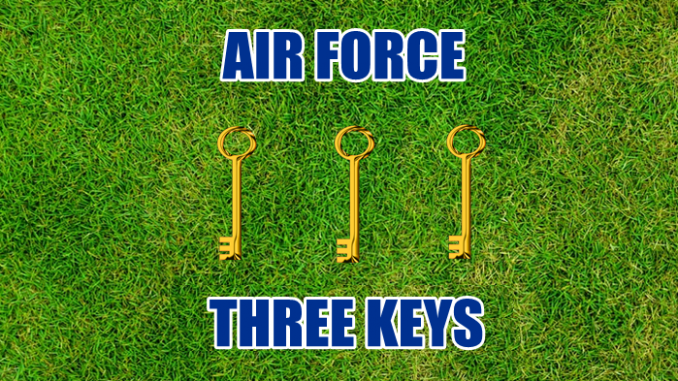 Air Force hosts Colorado State on Thursday in Colorado Springs. Here are your three keys to an Air Force victory.
By Don Yates
1. Schuettpelz-Rohl has big game
Air Force senior kicker Tevye Schuettpelz-Rohl tied a school record with four field goals against Navy. Tevye Schuettpelz-Rohl ranks fourth in the MW in field goals with a 1.25 average and eighth in kicker scoring with a 6.2 norm. He is also seventh in field goal percentage (71.4) and tied for first in PAT percentage (1.000). Those are all amazing accomplishments that should make the entire Air Force nation proud. However, in this game we want Tevye Schuettpelz-Rohl to shine by kicking a C-5 Galaxy load of extra points and fewer field goals.
2. O'Brien Struggles
Patrick O'Brien is a 6-foot-5, 235-pound senior quarterback from San Juan Capistrano, Calif. Last season he completed 209-of-338 passes with 13 touchdowns and 7 interceptions. He has started the past two games and has over 3,000 career passing yards. O'Brien is a player the Falcons have to get some pressure on and the D-backs must cover well. There's a possibility that Todd Centeio could also start as the depth chart for CSU has "OR" these players names. We think they'll probably go with O'Brien though.
3. Win the battle of the lines
Colorado State has a very formidable offensive line which averages about 6-foot-5, 308 pounds per starter. First-year head coach Steve Addazio, who came from Boston College, brought along two guards and a center, all graduate transfers who are now starters on the line. Air Force's defensive line averages in at about 6-foot-3, 275 pounds. You can assume that it has taken some time for these CSU transfer linemen to settle in, especially with the COVID limitations of practice. After three games they are probably more comfortable with things. The Falcon's D-line has to be ready to dominate the day.
Thursday's game begins at Noon MT. View this football game on the CBS Sports Network.