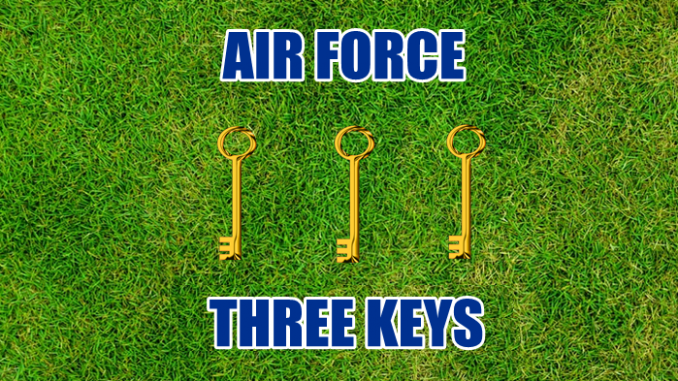 The Air Force Falcons face a unique situation after the craziness of the 2020 pandemic season which was unprecedented in our lifetimes. The particular circumstances attached to last season could make Air Force a very strong team this season.
The disruptions and growing pains of the past year could put the Falcons in position to make a legitimate run at the Mountain West's Mountain Division title. Coach Troy Calhoun's team could knock off Boise State and pursue a conference championship.
The road to improvement begins in 2021 with a game against the FCS's Lafayette Leopards. It's a chance for the Falcons to learn about their roster and get a greater understanding of what they need to solve as they move into tougher and more important games later in the season. Here are three keys for Saturday's game:
1 – Offensive line
The Falcons replace all five offensive linemen from a year ago, the foremost point of urgency for Calhoun and his staff. It's true for any football team, but it's especially true for a run-first offense: The offensive line has to be cohesive and competent for the rest of the offense to have any chance of functioning at a reasonably high level. It's not as though pass-first offenses don't need an offensive line – of course they do – but there is at least the possibility that if receivers can win 50-50 balls in the air, a quarterback can get the ball out quickly to neutralize the opposing team's pass rush. To that extent, a passing team can potentially find workarounds for a less-than-great offensive line. Running teams simply can't work around a weak offensive line. They have to be able to run-block, or it's all over. Developing continuity and communication up front will be a central goal for Air Force in this game. Providing a foundation for quarterback Haaziq Daniels, if achieved, would enable Calhoun to feel this first game set a positive tone for the rest of the 2021 season.
2 – Haaziq Daniels
Daniels has been slowed by injuries in his career. He ascended to the starting position when Donald Hammond ran into trouble off the field. Last year was a shortened season in the Mountain West because of the pandemic. Daniels, like a lot of other quarterbacks who didn't have a full year of game play in 2020, will try to establish an early rhythm and attain a comfort zone within the structure of his team's offense. Daniels doesn't have to be especially potent in this game. A clean, low-mistake outing would be perfectly good from Calhoun's point of view.
3 – Defensive dominance
Ten different Air Force defensive players opted out of the 2020 season. That made last year hard, but with those 10 players returning due to the extra year of pandemic eligibility offered to all college football players, Air Force has a very deep and very tough defense heading into 2021. The vacated roster spots last year forced less experienced players into action. Those less experienced players are now substantially seasoned defensive players. Air Force has tremendous depth and quality, an abundance of riches. This defense doesn't just have a chance to be good; it has a chance to be GREAT. Starting the season with an emphatic performance would establish the expectation that this defense can be historically special in Colorado Springs, which would enable Air Force to pursue a conference championship.