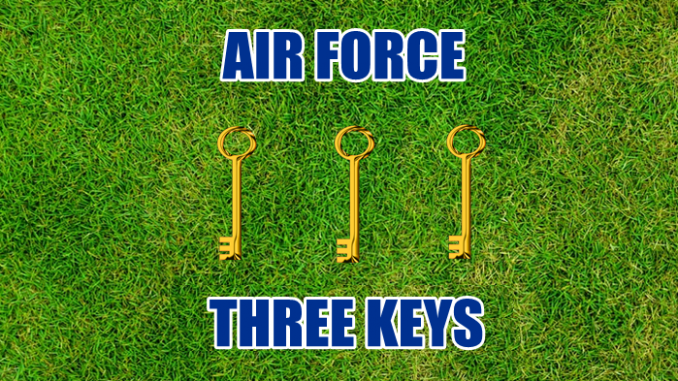 The Air Force Falcons had a relatively uneventful home opener against Lafayette, an FCS opponent. That's what the Falcons wanted. If an FCS opener becomes interesting or complicated, that's bad news.
By Matt Zemek
Now the Falcons – having shaken off a measure of rust – can focus on one of the three games which really matters for them every season. Army and (within the Mountain West) Boise State are also must-see moments for every Air Force fan each year. This Saturday, the Academy travels to Annapolis to face Navy in the first Commander-In-Chief's Trophy game of 2021.
Air Force did something smart and important against Lafayette: It didn't use a fat playbook. The Falcons threw just five passes, none of them especially ambitious. This makes them less predictable for Navy. The Falcons set up this game well from their perspective.
Meanwhile, Navy had a disastrous opener, losing 49-7 to Marshall. Yes, Navy rushed for 337 yards, but the Midshipmen simply could not finish drives. Their one touchdown came in the fourth quarter when they were already getting blown out. Their defense gave up quick early scores, and they looked a lot like the team which massively struggled a year ago.
Air Force certainly seems to have the advantage, but that means nothing if the Falcons don't actually take advantage of their situation this weekend.
1 – Unleash the beast
Throwing only five passes makes Air Force a mystery to Navy's defense, which is just how Troy Calhoun likes it. Navy has buttered its bread on busting out the big-play pass when defenses don't expect it. Air Force has carved out a similar identity, and the Falcons are in position to snooker Navy's defense this weekend. Pick the spot, and be ready to execute. Don't make it more complicated than it needs to be.
2 – Third down
Navy's defense allowed Marshall to convert 5 of 8 third downs in Week 1. Air Force would love that third-down rate. The Falcons were 8 of 14 against Lafayette, getting off to a solid start on third-down offense. They are in a position to do well on that side of the ball. Navy's offense was 8 of 21 on third downs versus Marshall. That's not where the Midshipmen want to be. Lafayette was a test drive; Navy will show us how good and prepared Air Force is in big third-down situations.
3 – Make Navy throw
Navy used several quarterbacks in Week 1. They combined to complete just 5 of 16 passes for only 61 yards, a terrible performance. If Air Force puts Navy in third and medium or third and long, that's the surest and most direct path to victory. Navy threw two interceptions against Marshall, so it threw five completed passes and two picks. That's atrocious. Air Force can really put the squeeze on Navy simply by putting the Midshipmen in predictable passing situations.