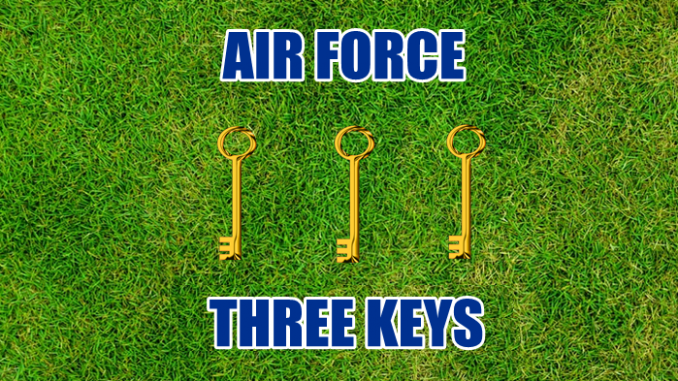 The Air Force Falcons are flying high after burying the Navy Midshipmen this past Saturday. For most of the recent history of the Air Force-Navy rivalry, scoring 23 points would have meant near-certain defeat, but Air Force's 23-point output – while hardly special – was more than enough against Navy.
Air Force's defense stood tall, allowing an astonishingly low 68 yards to Navy. The Falcons allowed just 36 rushing yards to Navy on 34 carries. That's absolutely insane. Air Force didn't allow Navy any breathing room at all. The Falcons refused to give up big plays and regularly got off the field on third downs. Air Force allowed one play longer than 15 yards all game long, none longer than 26. Outside of a 26-yard run and a 15-yard pass, Air Force allowed a total of just 27 yards. It's hard to put that in perspective. Navy was 1 of 12 on third downs, a testament to Air Force's clarity in important moments.
The Air Force win was so resounding and comprehensive that Navy coach Ken Niumatalolo fired longtime offensive coordinator Ivin Jasper after the game. Jasper had done a tremendous job at Navy, but Air Force clearly gave Niumatalolo the sense he had to adjust his offensive play caller. AFA's defense was that great.
Now comes Utah State and the arrival of Mountain West Conference play.
1 – Defensive dominance
14 points allowed to Lafayette, three points allowed to Navy. This defense is experienced and tough, and it is maxing out thus far. Communication is outstanding, and the physical effort matches the communication. Air Force can develop a dominant defense this year, not just in individual games. Let's see how high this defense can climb. Shooting for greatness needs to remain a part of the locker-room culture for the 2021 Falcons. That is their ticket to a very successful year.
2 – Offensive improvements
The offense is nowhere near where it should be for Air Force. The Falcons generated only 225 yards and 14 first downs versus Navy. No scoring drive was longer than 58 yards. No Air Force back or receiver rushed for at least 100 yards. Everyone needs to improve: quarterback, running backs, receivers, offensive line. There is no part of this offense which is somehow "solved" or "fully arrived." Humility and a dedication to craft must become central characteristics of this Air Force offense.
3 – Passing game
Air Force can't continue to get so little from its passing game. Haaziq Daniels was just 3 of 10 for 49 yards versus Navy. Against good teams, that won't fly. Air Force must complement its running game with a much better passing attack. Then the offense will open up.