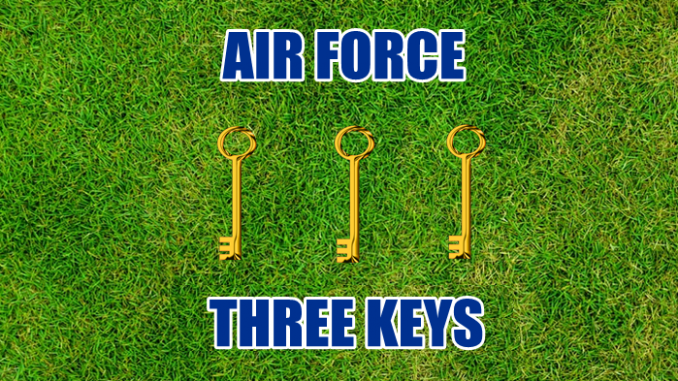 Air Force beat Navy and was on top of the world. Then it blew a late lead against Utah State on a day when three different 11-point leads slipped through the Falcons' fingers. The offense scored 45 points, and yet it still wasn't enough against the Aggies' passing attack.
There is a lot for Air Force to clean up as the Falcons play one more nonconference game before getting into the heart of their Mountain West schedule.
1 – Shut down the big plays
Air Force had a 45-34 lead in the fourth quarter and then gave up touchdown plays of 72 and 61 yards to Utah State. That's completely unacceptable. The Falcons were supposed to have had a veteran defense which would prevent these precise episodes from emerging this season. The Falcons and coach Troy Calhoun have to be deeply disappointed that their defense got worse, not better, as the Utah State game continued. Utah State moved the ball all day long, but Air Force became less disciplined, not more, when it needed to make a stand in the fourth quarter.
Navy's offense is so bad that Air Force might have felt (albeit subconsciously) that it had already become a top-tier defensive team. Having a game in which a defense allows just a field goal can create a sense of invincibility. Yet, nothing could have been further from the truth than that for the Academy. That Utah State game was a big splash of cold water. Let's see if the defense plays with a completely new mindset and stops long touchdown plays from happening. That is a cornerstone component of what this game needs to achieve for Air Force.
2 – Third downs
The defensive collapse against Utah State wasn't just a matter of allowing huge plays; Air Force could not get off the field. Utah State converted 14 of 21 third downs, a 67-percent conversion rate. That's crazy. Over 20 times, Air Force could have gotten off the field or forced fourth down. On two-thirds of those occasions, Air Force's defense failed. Total accountability is needed in the defensive locker room in order to generate the reforms and adjustments which will produce a solid performance.
3 – New mentality
The Air Force offense was great against Utah State. 45 points should always be enough to win. That said, the Falcons – in a close game – lost steam on offense and weren't able to claw back a victory. Air Force played lopsided games against Lafayette and Navy. Close-game pressure overwhelmed the Falcons. Maybe this game won't be close, but Air Force does need to work on developing and improving its mindset, so that the next intense and stressful situation will be handled a lot better than Utah State was.