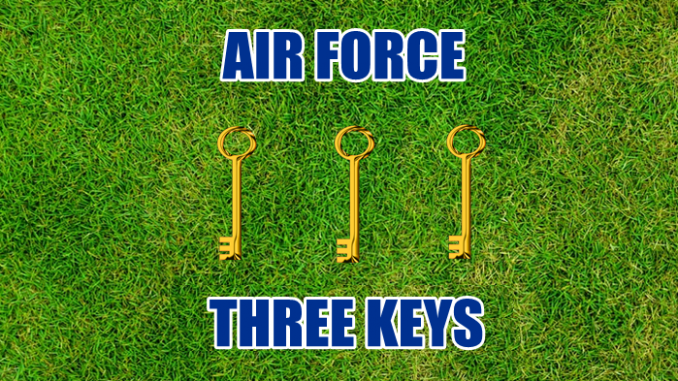 The Air Force Falcons face the New Mexico Lobos in a game which, on paper, shouldn't be that difficult, but on paper is not where football games are won and lost. Air Force has been a perplexing team this season.
The Falcons have gone from being airtight on defense against Navy to being a sieve against Utah State, and back to being airtight against Florida Atlantic. Will the real Air Force defense please stand up?
There is obviously a more specific and precise point behind asking that question, and it feeds into the backdrop not only for this New Mexico game, but for the rest of the Falcons' 2021 season.
1 – Maintaining good habits
Air Force lost track of its tasks and its assignments against Utah State. How else to explain a game in which Air Force lost three different 11-point leads over the course of a full game? Air Force also allowed massive home-run plays in the fourth quarter to ultimately blow that lead and the game against the Aggies, in a 49-45 decision. Air Force had to be surprised this past weekend when Utah State – the same team which slapped 49 on the Falcons – then scored only three points against Boise State. That made Air Force look bad.
The Falcons did bounce back really well against Florida Atlantic, but the quality of the Air Force defense against FAU only magnified the extent and severity of the failure versus Utah State. Can Air Force settle into a groove where it is able to perform consistently and steadily – not making spectacular plays, but making routine ones? That is what Air Force needs to rediscover. Stringing together consecutive quality games on defense is important for this team heading into the rest of the Mountain West schedule. The opponents are obviously going to be tougher than New Mexico, so this game is a time to nail down strong habits and keep them locked in place for the battles which lie ahead.
2 – Ball control
A great way to protect the defense and ease the strain on that side of the ball is to control the ball and the clock. New Mexico ought to be an opponent weak enough to achieve this against. Air Force will need a lot of resources and savvy to find its way past Boise State later this season. Comparatively, New Mexico should be a game in which Air Force can win with a minimalist approach, mashing the Lobos' defensive front and winning with more power and less finesse. A good team will do this against a bad team.
3 – Put the game away early
Air Force will have some 60-minute fistfights in the weeks ahead. Getting on top of New Mexico and creating a low-stress game is important for carrying a team through a full season and having the best chance to be healthy and rested for the games which matter most.