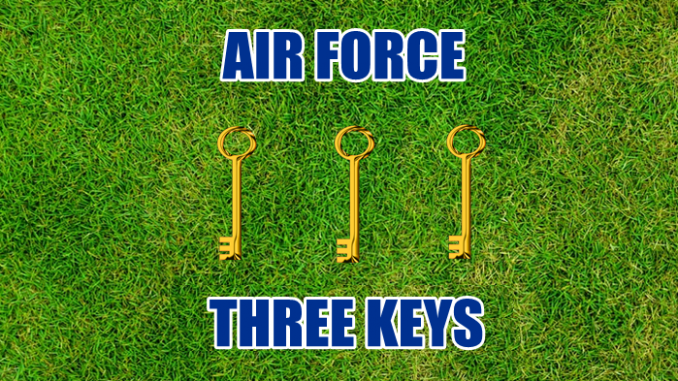 The Air Force Falcons took care of New Mexico easily and efficiently, as they needed to. They now prepare for a team with a very weird profile: the Wyoming Cowboys.
Wyoming is one of the great mysteries in college football after one month of play. The Cowboys are 4-0, but they have played poorly this season with the exception of a blowout of Ball State. Wyoming struggled to beat Montana State of the FCS, a bad Northern Illinois team, and winless Connecticut. Wyoming won all three of those games by no more than seven points, struggling against teams which should be able to be dominated or – at the very least – comfortably handled. Yet, 4-0 is 4-0. The Cowboys are in good position for a bowl bid. How they stack up against the Mountain West is something we know nothing about, however.
Air Force has to win this game if it wants to get the inside track to the Mountain West's Mountain Division championship. Let's see what needs to happen in Colorado Springs:
1 – Make the Cowboys earn it
Wyoming doesn't score in bunches and doesn't score easily. Posting only 24 points against Connecticut's defense is alarming, as is scoring only 19 points against Montana State. Air Force let the Utah State game slip away because of busted assignments and general carelessness. The Falcons have been far more focused and attentive the past two weeks, but Florida Atlantic and New Mexico are not imposing, overwhelming teams with dangerous offenses. Air Force has to respect Wyoming enough to remain completely locked in on defense, making sure the Cowboys don't hit the big plays which can change the tone and trajectory of this game. Preventing Wyoming from getting quick, easy scores is the number one thing the Falcons can do to win this game. Dare Wyoming to go 80 yards in 14 plays and eight minutes. The Cowboys probably won't be able to do that.
2 – First-half urgency
Air Force has won easily the past two weeks. That could create a certain degree of complacency and a feeling that the Falcons can flip the switch when they need to. Wrong. Air Force needs to realize that it is thriving precisely because it isn't waiting to strike, isn't waiting for something to happen. The Falcons are the authors of their success, being proactive and taking no prisoners early in games. Wyoming has not played well this season. Air Force needs to make an early statement which tells the Cowboys they will have to perform at a dramatically higher level if they want to be in this game when the fourth quarter arrives.
3 – The backup plan
This doesn't refer to backups at quarterback or any other position; it refers to the backup scenario, the Plan B if Air Force's Plan A doesn't work.
Wyoming has won three different one-score games this season. The Cowboys have shown an ability to come from behind and swipe games at the very end of regulation after struggling for the first three quarters. Air Force would love to get on top of this game and put the boot on Wyoming's throat, as described in the first two game keys, but if this does become a white-knuckler late in the fourth quarter, the Falcons need to show the composure and attention to detail they lacked against Utah State. Blowout wins are what Air Force wants. The Falcons achieved that goal the past two weeks. If Wyoming does create a close and tense fistfight, however, AFA should welcome that scenario and then fight hard to bring home a win under stress in the fourth quarter.