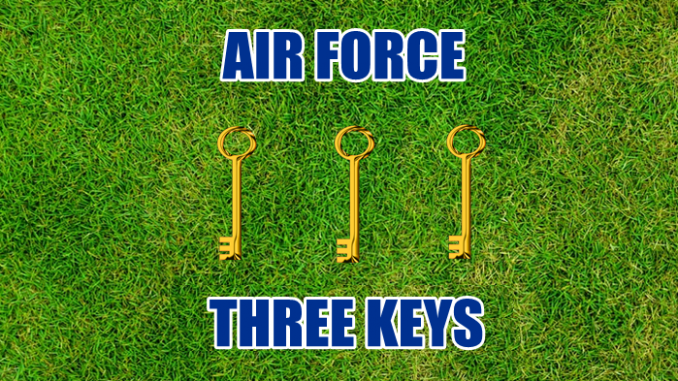 The Air Force Falcons took care of business against Wyoming. That was the appetizer. The main course comes next against Boise State.
It's not that complicated: Going to the Mountain West Conference Championship Game generally requires going through the Broncos.
Boise State has set the standard in the Mountain Division of the conference. Air Force, already saddled with a conference loss to Utah State, can't afford to lose to Boise State if it wants to win the division and compete for a conference championship. Let's see what Air Force has to do to come away with a victory in this centerpiece game of the Mountain West football season.
1 – Daniels delivering the goods
Haaziq Daniels committed a turnover in Wyoming territory which prevented the Falcons from building an even bigger lead in the first half of last Saturday's contest against the Cowboys. Daniels and the rest of the Falcons regrouped in the second half, but 24 points is not likely to beat Boise State. Periods of inconsistency and sloppiness will likely lead to defeat against the Broncos. Daniels can't make huge mistakes, and he can't play a modest (B- or B-minus) level. He has to find and sustain his A-game if this offense and this team are going to realize their full potential. There can't be lulls or periods of drift in this clash.
2 – The breakdown boomerang
Late-half defensive breakdowns continue to be a problem for Air Force. The end of the second half of the Utah State game remains the worst half of football this team has played in 2021, but the end of the first half against Wyoming was pretty bad, too. Wyoming uncorked a 75-yard run from its own 2-yard line. The Cowboys scored two touchdowns in the final four minutes of the first half to erase a 14-0 deficit and force the Falcons to dig very deep in the second half. These lapses and brief moments of defensive vulnerability need to be nipped in the bud. Troy Calhoun can't have these breakdowns yet again versus Boise State.
2 – Harass Hank
Hank Bachmeier is a mistake-prone quarterback for Boise State. He is talented, but his history shows that if pressured and hit, he will eventually crack and make a mistake. Boise State's offensive line controlled BYU's defensive front. Air Force's defensive line and linebackers have to find a way to get home consistently and make life very difficult for Bachmeier on Saturday. Doing so would dramatically improve Air Force's odds of winning this game.