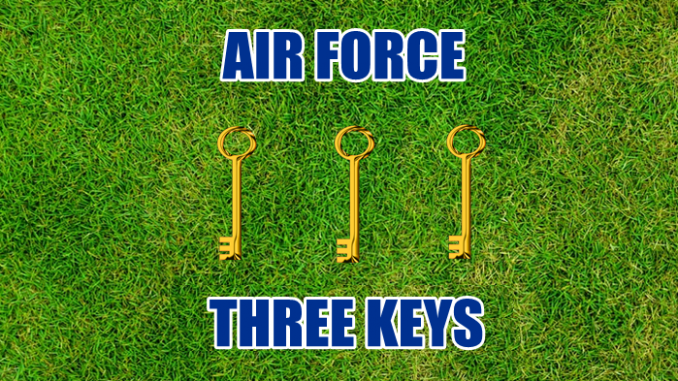 The Army-Air Force showdown, part of the Commander-In-Chief's Trophy series, gives Air Force a chance to win the CIC Trophy for 2021.
By Matt Zemek
The Falcons have already defeated Navy, so if they can handle Army, they win the trophy on Saturday afternoon. If Army wins, the Black Knights would be able to claim complete ownership of the trophy if they beat Navy one month from now in December.
This game is a very different installment of Army-Air Force because it is a neutral-site game. Army and Air Force are used to playing on campus, whereas Army-Navy is a treasured neutral-site game normally played in Philadelphia, sometimes Baltimore or New Jersey. Army and Air Force will play this game in Arlington, Texas, and not at the Dallas Cowboys' home stadium. This game will be at Globe Life Field, the relatively new home of the Texas Rangers which hosted the 2020 pandemic version of the World Series. It's the first football game played in this baseball yard, and as an extra twist, the game will start at 10:30 a.m. local time in Texas. Both Air Force and Army will need to get the cobwebs out of their eyes, eat a very early pregame meal, and be ready to go from the start. Failure to answer the alarm clock will be important. Other than that, here are three other game keys for the Falcons in their attempt to beat Army:
1 – Remain on course defensively
Air Force's defense has been outstanding since the 49-point stumble against Utah State. Army scored 56 points in a recent game against Wake Forest, so it's clear the Black Knights can produce big plays in their triple-option offense. Air Force needs this to become a slugfest and not a shootout. Maintaining discipline and staying on assignment will be core points of emphasis for the Falcons in a game where the tasks are obvious but no less important. We don't have to reinvent the wheel in terms of establishing the main keys for this contest.
2 – High-leverage plays
Air Force failed on fourth down and short against San Diego State. It committed turnovers which shortened the field for SDSU's flawed offense. The most important plays of the game cut against the Falcons, who also dropped a long pass and failed to hit an open long ball late in regulation. Very simply, those high-leverage plays need to be completed in order for Air Force to prevail here. A fourth and 1 at midfield needs to be converted this time. The Falcons need to pounce on pivot-point opportunities when they arise. Everyone knows that the margins are small in service academy games. Air Force needs to do all the little things which will put the Falcons on the right side of those margins.
3 – Lean on Army
Army wants to get its skill players in open space, creating more of a track meet. Air Force is sturdy and physically hefty. It will want to play this game between the tackles and prevent the Black Knights from getting outside the hash marks and the numbers. Air Force wants to pound Army and lean on the Black Knights' lines, both on offense and defense. If this game becomes a test of raw, brute strength, Air Force will fancy its chances.