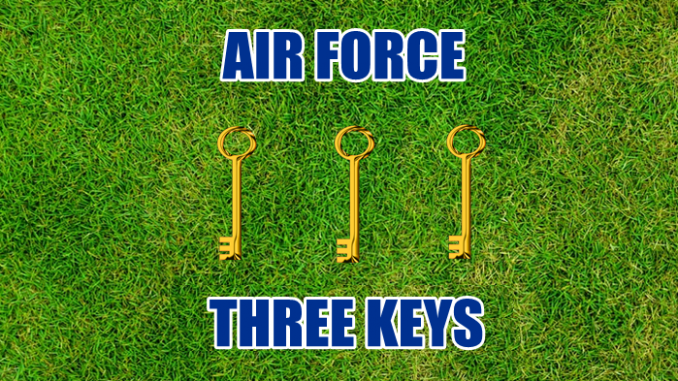 The Air Force Falcons play their in-state neighbors from Boulder this week. The Colorado Buffaloes had a very tough opening weekend, falling to TCU in a game which was very close for two and a half quarters but then became a lopsided affair in the second half.
By Matt Zemek
Air Force is favored to win by more than two touchdowns, so the Falcons need to guard against overconfidence more than anything else. A focused, resolute effort should enable them to prevail, but they can't take anything for granted, especially in light of one of the plot points we'll discuss below:
1 – J.T. Shrout
Colorado head coach Karl Dorrell has been silent on who would be his starting quarterback for this game, which marks Colorado's first trip to the United States Air Force Academy grounds at Colorado Springs since 1974. Air Force obviously needs to be ready to play either quarterback, but the Falcons should certainly expect J.T. Shrout to be the guy, displacing Week 1 starter Brendon Lewis. Both men completed 13 passes against TCU, but Shrout's completions gained double the yards of Lewis's completions, 157 to 78. Shrout can throw the ball down the field. He has a much better and stronger arm than Lewis does. If Lewis is in the game, Air Force should be concerned with preventing him from running for a first down, something he did a few times versus TCU. If Shrout is in the game, Air Force should expect Colorado to attack down the field. The Falcons' secondary needs to be ready for what Shrout can bring to the table. Colorado can stretch the field and be more vertical in its passing game when Shrout plays … and that's what the Falcons should expect.
2 – Trick plays
Colorado is already in a desperate situation. The Buffaloes looked bad in Week 1. They are likely to change quarterbacks in Week 2. Their program is in trouble. Expect CU coach Karl Dorrell to throw the kitchen sink at Air Force with a lot of gadget plays and exotic formations. The Falcons need to maintain assignment discipline and gap integrity. Staying at home and being vigilant will be important for the Academy in this game.
3 – Win the first quarter
Colorado is a frustrated, worried football team which does not enter this game with any confidence. If Air Force can play a strong first quarter and establish a 10- or 14-point lead, it will give Colorado extra chances to doubt itself. Air Force can take control of the game early and put it to bed well before the fourth quarter ends.