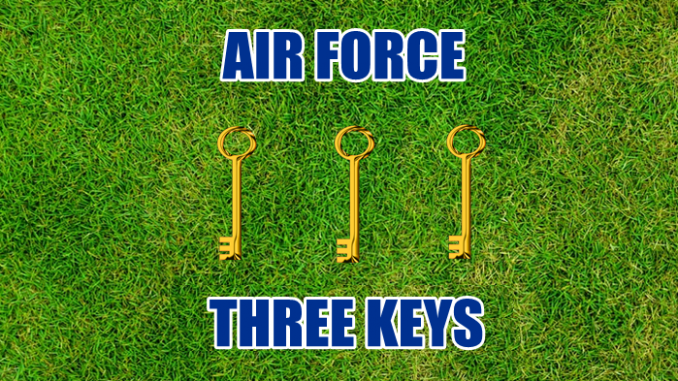 Last year, the outlier game for Air Force – the result which scuttled the Falcons' plans for a division and conference championship – was a 49-45 loss to Utah State.
By Matt Zemek
No one knew how good Utah State was going to become, but even then, it was a poor defensive performance from Air Force, one of the few times in 2021 when the Falcons let down their guard on that side of the ball. Air Force's defense was a team strength last season. The Utah State game turned out to be an unfortunate aberration in what was a generally solid campaign of good football.
The Falcons, in September of 2022, have to hope that their 17-14 loss to Wyoming last week was the outlier game for their offense. AFA cannot go through another season in which the offense holds this team back. Against Wyoming, it certainly did.
Air Force did not thrive on offense last season. Troy Calhoun's offense did not come together and flourish most weeks. It had its moments, but it certainly didn't answer the bell against Army in the big Commander-In-Chief's Trophy game, and it was also contained by San Diego State in one of the year's more important contests. After an offseason in which he knew he left points – and wins – on the table in 2021, Air Force quarterback Haaziq Daniels knew he had to elevate his game this year. In 2021, he and the Falcons managed only 24 points against Wyoming. Thankfully, the defense was able to do its part and limit the Cowboys to only 14 points. One year later, however, Daniels was not only unable to improve upon his 2021 standard of play against Wyoming; he and the offense actually regressed.
This can't be the way things remain in 2022.
Let's look at what needs to happen against Nevada in Week 4.
1 – Get angry, and get going
Nevada is a bad team, so Air Force might win this game by 50 and yet prove very little – either to itself or to the rest of the Mountain West – about its capacities this season. That said, Air Force ought to apply a 50-point-level beatdown to Nevada, and if it does, maybe that will provide the jolt which will get everyone on the offensive side of the ball to play with more urgency and commitment for the rest of the season.
2 – Experience the satisfaction of dominance
Air Force's offense will have a chance to dominate Nevada's defense. Absorbing what it feels like to not merely win, but flourish, could enable Daniels and his teammates to understand what this offense can potentially achieve. This team doesn't just need to play better; it needs a different mindset. The Nevada game needs to unlock something deep inside this offense which carries over into the rest of the season.
3 – Forget about tactics
We can talk Xs and Os all day long, and wonder what kind of plays Calhoun should have called to elicit a better result against Wyoming, but the bottom line is that if Air Force had been able to physically overwhelm Wyoming up front, it wouldn't have struggled so much. We can criticize Daniels all we want, but if the offensive line isn't making the cut – and it certainly didn't against Wyoming – there is only so much a play-caller or a quarterback can do. This offensive front has to take things personally against Nevada and plant a flag in which it says it won't put up with mediocrity any longer.