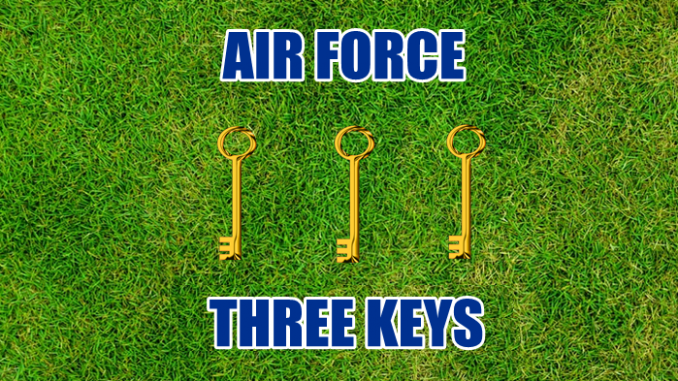 The Air Force Falcons have arrived at their most important game of the season. A team which has already lost to Wyoming and Utah State simply cannot afford to lose any more games this year.
By Matt Zemek
Air Force has not put together the kind of season it had hoped to produce. The Falcons' offense has been nowhere near as potent as they expected it to be. Air Force has to find a midseason spark which unlocks the very best football in this team. Coach Troy Calhoun has to develop players and use attention to detail as a way of fulfilling this team's potential. Plenty of teams will stumble around for several weeks before fully realizing how to play together. Some teams never do arrive at that important and central realization. Air Force needs to get there, and Boise State stands in the way this coming weekend. Let's see what the Falcons have to do in order to defeat the Broncos.
1 – Front four
If Air Force's front four can outplay Boise State's offensive line, the Falcons have a real shot in this game. Boise State's offense has struggled for much of the season, but if the Broncos are able to run the ball effectively, they can set up play action in the passing game and develop the balance and diversity they want on offense. If Air Force's defensive front can set a physical tone and establish a rugged playing style in the first quarter, Boise State's offense might never get off the ground. The Broncos have not executed well for most of the season. Air Force can punch Boise State's offense in the mouth and guarantee that the Broncos will never settle into a groove in this contest.
2 – Third-down conversions
On both sides of the ball, third-down conversions are going to loom large in this contest. Air Force needs its offense to solve third downs so that the Falcons can control the ball and establish field position. Boise State's offense will likely need help with field position in this game, so an Air Force rushing attack which can grind out two or three first downs on each drive will be instrumental in preventing Boise State from winning the field position battle. Scoring is great, but AFA must at least use each possession as a way of improving field position versus Boise State.
3 – Clutch plays
Air Force was outplayed in the fourth quarter of its Utah State and Wyoming losses. The Falcons need to learn from those two team-wide failures and make it a point of emphasis to dominate late in the game, when fatigue and the physical effects of competition begin to set in. Air Force needs to own those minutes and sequences.