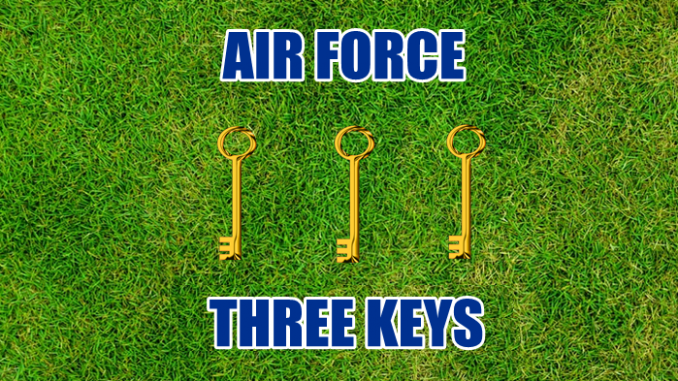 It's a Commander-In-Chief's Trophy game. Air Force, which has already defeated Navy, will try to win the CIC Trophy by going into West Point and beating Army.
By Matt Zemek
Last year's Air Force-Army game, played in a baseball stadium (Globe Life Field, home of the Texas Rangers) in Arlington, Texas, went into overtime. Air Force and Army played a strange game in which neither team could run the ball and pass plays formed most of each team's offensive attack. Army prevailed in overtime in a typically low-scoring game. Air Force would love to strike back and get the final say in this series, which it hasn't been able to do the last few years. Army has narrowly won each of the last two games, rising up to make clutch plays in fourth-down situations and other high-leverage moments.
In addition to winning those fourth-down plays, what else does Air Force need to do to beat Army?
1 – Air Force, literally
Air Force has generally been a running team under Troy Calhoun, but much as the Falcons got some big plays last year against Army by throwing the ball, they should consider going to the air in the early stages of this game. Army's defense has been shredded by good passing attacks this year, Wake Forest being one notable example. There will be pitch-and-catch opportunities for Air Force in this game.
The Falcons might be tempted to think that they need to establish the run first and set up big-play passes; that's a normal approach for a service-academy offense. In this game, however, the Falcons might need to flip the script. A pass-heavy first quarter could hit big plays and give the Falcons an early lead. More than that, it might force Army to immediately reconsider what it does on defense, getting the Black Knights off balance and creating more avenues for attack.
Why throw the ball on third down and medium when AFA can simply throw on 1st and 10 and land some shots early?
2 – Stay with assignments
The Air Force defense has generally been good this season. The defense played well enough to win against Boise State. It played well enough to win against Wyoming. It just hasn't received enough help from the offense this year. Against Army, Air Force should be able to perform well on defense. The main thing to remember is to stick to assignments. Stay home. Don't get caught out of position on the misdirection or gadget plays Army is bound to use at some point.
3 – Bare-knuckle brawl
If neither team hits big pass plays and the game becomes a slugfest played in the trenches, Air Force has to believe it can win that type of game. That's largely what we saw against Navy. If AFA is dragged into the mud and can't unleash its offense, it can still win a defense-first slog. The academy will take a CIC Trophy any way it can get it. The Falcons don't have to have style points if that's the kind of game Army wants to play. Air Force can handle that.