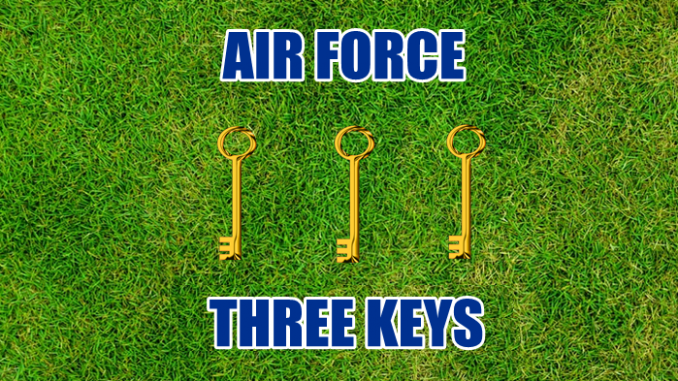 The Air Force Falcons did exactly what they should have last week.
By Matt Zemek
Following their capture of the Commander-In-Chief's Trophy for 2022 with a Nov. 5 win over Army, they carried their momentum into the next week by hammering New Mexico, 35-3. The defense is flying, the offense is taking advantage of the opportunities it receives. This is how Air Force should be performing. As we head into this in-state battle with Colorado State, here's what the Falcons should be mindful of:
1 – Colorado State rivalry balance
Colorado State just did play one rivalry game, against Wyoming. That's a bitter regional feud. This game, as an in-state clash, can also be very spicy. Air Force has to strike a balance in this rivalry. The balance is between rivalry-game passions and, on the other hand, believing that this game won't be difficult. Air Force has to hate Colorado State but still respect the Rams. Relish the idea of beating them, but take the Rams seriously enough to properly prepare for them. Be energized but disciplined; fired up but patient; angry but also prepared. That's the balance Air Force has to find in this game. Colorado State is not a good team, but in a rivalry game, bad teams can and do play well, since the game represents one of the big moments of the season and a time when everyone's focus gets sharper. Air Force has to match CSU's focus and be ready for a challenge, even though very little in film study would suggest that Colorado State is likely to threaten Air Force.
2 – Remain locked in on defense
Air Force allowed just seven points to Army and only three to New Mexico. This defense is playing its best football of the year. The only thing to say about this defense is that it can't assume it will just show up and automatically shut down Colorado State. Do the work. Go through the preparation. Retain the great habits which have been on display the past few weeks. No shortcuts. No letdowns. Pay the price. Maintain full attention to detail, as has been the case so far in the month of November.
3 – Excellence on offense
The Air Force defense has carried the freight for this team in 2022. The offense was fine against New Mexico, but hardly spectacular. Every member of this Air Force offense should want to leave the field at the end of this 2022 season knowing that it produced a total masterpiece in which the Falcons scored more than 50 points in a conference game. Air Force hit 48 against Nevada and 42 versus UNLV. The Falcons won't score in the 50s at San Diego State next week. This is the game in which to hit 50 and leave behind a top-quality performance these athletes will remember. It's time for the Air Force offense to throw a real party on the field.