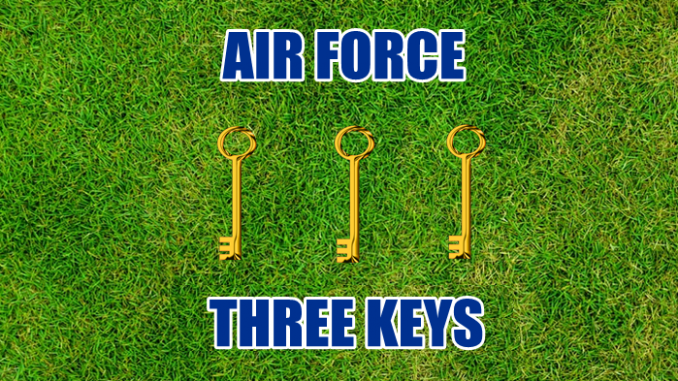 The Air Force Falcons once again fell to Utah State. They did so in 2021, and they replicated that most unwelcome result in 2022. One year ago, Air Force couldn't stop the Aggies, giving up 49 points at home in Colorado Springs.
By Matt Zemek
This year, Air Force lost because its offense couldn't get off the ground. The Falcons scored just 24 points and committed critical fourth-quarter mistakes against the Aggies in a brutal defeat which gives them multiple conference (and division) losses midway through the season. The Falcons have little margin for error in their division, and they know they must beat Boise State later this year to have any realistic chance in the Mountain West Conference's Mountain Division. If they are going to turn their season around and make a run at the division title, they know they have to defeat UNLV in Week 7. Here's how they will likely need to go about their business:
1 – Keep the ball
The Utah State team which just defeated Air Force was unable to beat UNLV at home. How did that happen, you might ask? Simple: Utah State quarterback Logan Bonner was intercepted five times by the UNLV defense. Air Force doesn't have to get five takeaways to win this game, but it certainly needs to protect the ball and get a few turnovers which are cashed into points. The Falcons have to not gift-wrap any scores to UNLV. Everyone can always point to turnovers as a game key, so we obviously don't want to lean on this category as a regular game key throughout the season, but in this case, UNLV's five interceptions against Utah State – a common opponent of Air Force – make it impossible to ignore the turnover factor.
2 – Haaziq Daniels
We keep seeing Daniels fail to play up to his capabilities, which is unfortunate to see, but what else are we going to say? Daniels has to play well for this team to reach its potential. Like a pitcher whose mechanics and release point are just a little off, Daniels is a quarterback who needs some fine-tuning so that the game comes together for him and everything clicks. We haven't seen him find a groove this season. Troy Calhoun needs to give Daniels a flight plan which enables the Air Force offense to finally take off. Scoring a lot against Nevada is something other teams can easily do. Air Force has to find a higher gear on offense, sooner rather than later.
3 – Throw haymakers early
UNLV got rocked by San Jose State last week. The Rebels were thrown on their heels and played the entire game on the back foot, having been punched in the teeth in the first quarter. Air Force needs an authoritative start. If it allows UNLV to hang around, this game figures to get messy and complicated in the fourth quarter. Late at night in Las Vegas, allowing life to be complicated is a losing gamble.