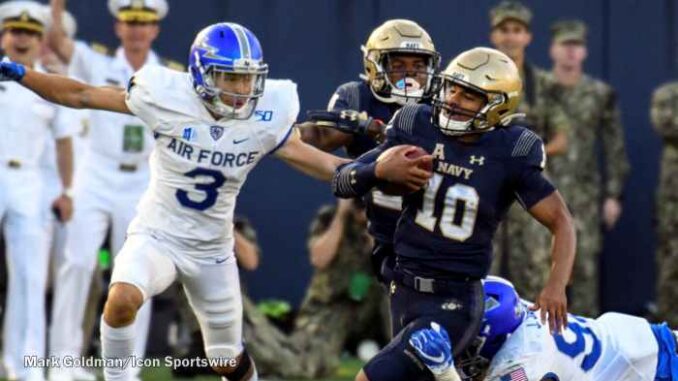 Army is back in play this week after a bye, and we also get our first Commander-in-Chief's Trophy matchup of the season as Navy travels to Air Force.
Week Results: 1-1. Sometimes being wrong is a good thing as the Mids grabbed their first win of the year over ECU.
Closest Pick: Air Force 43, Nevada 17. Actual was Air Force 48, Nevada 20. Just a good pick this one.

Worst Pick: Navy 21, ECU 35. Actual was Navy 23, ECU 20. The Mids defense was excellent on Saturday as their offense continues to improve.
Season Results: 5-2 (71%). Last week I was at 80%
Georgia State @ Army – Army rushed for 472 yards last time out against 'Nova as the offense scored 49 points in a cathartic win. Georgia State is 0-4, and there is no reason that the Black Knights should have any real issues against a team in no kind of form. Injuries to the fullback – Jakobi Buchanan on crutches at the end of last week's game is a big worry – but the quarterback play was better, and the special teams were outstanding. Army just has to play its own game, in its own style, to win here. Army 49, Georgia State 14.

Navy @ Air Force – The first Commander-in-Chief's Trophy clash of the season sees a couple of squads coming off of wins last week meet on Saturday in Colorado Springs. Air Force is a disaster (again) in Laramie away from being undefeated, while Navy was looking lost until a big win over ECU last time out. Navy hasn't won at Air Force since 2012. Running back Brad Roberts will be the man for Air Force to feed – and for Navy to stop – in this one, as he rushed for 123 yards and three touchdowns last time out against Nevada. Air Force scored almost 38 points per game, way more than a Navy squad sitting at just 14.3 points per game – albeit noting that the number is massively increased after they scored 23 against ECU a week ago. These two know each other well enough that form isn't always everything, but the Falcons will do enough. Air Force 29, Navy 17.