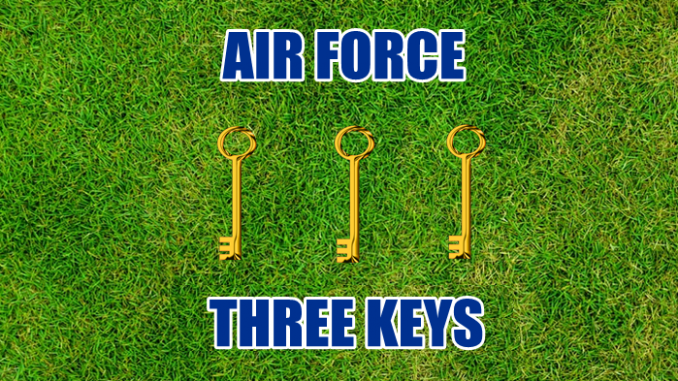 Air Force's one loss of 2022 came against Wyoming as a 17-point favorite. The Falcons' offense was not ready for a spirited challenge from a resolute opponent with a capable defense.
By Matthew Zemek
Air Force's most recent game was not a loss, but the offense was held in check by Navy in a tense and hard-hitting game which always felt up for grabs until Air Force made a final defensive stop against the Midshipmen late in the fourth quarter.
Air Force's offense has scored at least 41 points in a majority of its five games this season. Such a fact might lead one to conclude that the Falcons are hitting their marks on offense. However, Northern Iowa is an FCS school. Colorado is the worst Power Five conference team in the FBS. Nevada is a very bad Mountain West team. In other words, we haven't seen Air Force's offense thrive against a good team or at least a uniquely motivated opponent.
Utah State is 1-4 this season, but the Aggies did not look like a 1-4 team when they lost to BYU, 38-26, in their most recent game. BYU was a 24-point favorite, but Utah State was very close for two and a half quarters and did not allow BYU to pull away. USU might be getting better. That's one reason for Air Force to be on guard as it heads to Logan, Utah, for this conference clash.
The other big thing to note about this game is that it is a revenge game for Air Force. The Falcons might have won a division title and reached the Mountain West Championship Game if they had beaten Utah State last year. The defense played well for the academy in 2021, but its worst game of the season came against Utah State in a 49-45 loss. This sets the scene for Saturday's game.
1 – Defense in the spotlight
Air Force's defense was embarrassed by Utah State a year ago. The Aggies don't have a good offense this year. Quarterback Logan Bonner has thrown eight interceptions through five games. This is a moment for Air Force to establish immediate defensive superiority and never relent.
2 – First-Quarter Fury
Air Force needs to leave no doubt as to the superior team. The Falcons don't want an underperforming Utah State team to gain any belief or confidence. They need to immediately get on top of this game and not allow USU to think it can compete. Utah State has struggled this season; Air Force needs to make Utah State surrender. A big first quarter could achieve that sooner rather than later.
3 – Haaziq Daniels
We still aren't seeing the very best from Daniels as AFA's quarterback. If this season is to become a success for the Falcons, they need more from their signal-caller, either in the running game or the passing game if not both. A transformative moment which unlocks' Daniels potential is something Air Force needs more than just about anything else right now.