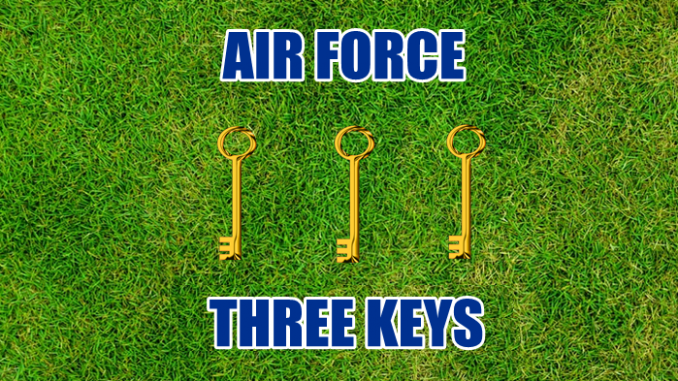 Air Force was not able to win the Commander-In-Chief's Trophy outright last year. The academies shared the trophy after splitting the three-way competition. However, the one thing Air Force was able to do: Beat Navy.
By Matt Zemek
The Falcons handled the Midshipmen in Annapolis. Now they get to host the Naval Academy in Colorado Springs for a very early kickoff on national television. Let's look at what the Falcons need to do to win this game and set up an Army encounter later in the season which could bring Air Force that special and coveted piece of college football hardware:
1 – Offensive onslaught
Navy wants this game to be a rockfight, a low-scoring academy slugfest in which neither offense gets off the ground. Navy's offense has struggled each of the last three seasons. Pandemic-era Navy has fallen well below the offensive standards the Midshipmen set in the previous two decades under coaches Paul Johnson and Ken Niumtalalolo.
Air Force's offense struggled last season and has continued to scuffle in 2022. The loss to Wyoming showed that Troy Calhoun is still having a hard time getting the most out of his personnel. This game would be a great time for a breakout, and a new demonstration of this offense's capacity to perform. This is a game where everything needs to come together for this offense.
An obvious point of intrigue in this game: Who will quarterback Air Force? Haaziq Daniels was relieved by backup Ben Brittain against Nevada last week. Brittain threw a long touchdown pass, and Air Force scored 48 points. It's true that Nevada is a terrible team, so we shouldn't presume that Air Force's offense is officially "back" to being great. However, Brittain certainly made the most of his opportunity as the backup to Daniels. Navy might have a challenge preparing for both quarterbacks in its film study. Air Force could create some confusion for the Midshipmen by either rotating the two quarterbacks or using some concepts which have not previously been seen on film in 2022.
Navy wants a low-scoring game. Air Force, if it can score 30 points, will make it nearly impossible for Navy to keep pace.
2 – Defensive line
Navy's offensive line continues to be a weak point of the Midshipmen's roster. Air Force can take charge of this game by getting a strong performance from its defensive front. Navy's O-linemen have not been able to push opposing defensive linemen off the ball. If Air Force establishes physical superiority in that one matchup of position groups, Navy's offense will have nowhere else to turn.
3 – Meet the challenge
Nevada, as mentioned, is such a bad team that Air Force can't derive too much meaning from last week's easy win. Beating a good team 48-20 would really tell us something. Beating a bad team 48-20 does not. Air Force needs to mentally clean the slate and not assume it has achieved anything special. Rising to the challenge posed by Navy is something this team has to be conscious of on Saturday.