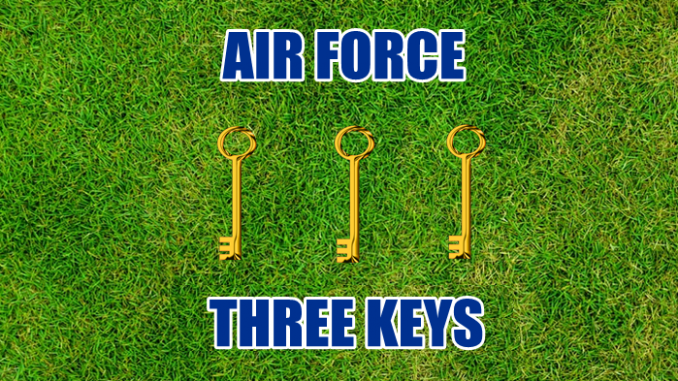 The Air Force Falcons should, on paper, be able to handle the New Mexico Lobos this week. However, we remember September and the early portion of this 2022 season.
By Matt Zemek
Air Force was a heavy favorite at Wyoming, favored by more than two touchdowns. The Falcons lost the game outright and have continuously struggled this season. Air Force has played nine games. In four of them – nearly half – the Falcons have not scored more than 14 points. That's a problem for coach Troy Calhoun, though it should be noted that in two of those low-output games, the Falcons' defense rose up and performed brilliantly.
Those two games were both Commander-In-Chief's Trophy games. Air Force won 13-10 over Navy earlier this season, and this past weekend, the Falcons captured the 2022 CIC Trophy by fending off Army, 13-7. It's a proud moment for the Falcons, and they will take their coveted service academy championship into this New Mexico game.
The reminder for the Falcons is clear, however: Don't take wins for granted. They have not come easily for this team over the past month and a half. The Falcons can't afford to let down their guard. Here's what they need to do in order to make the New Mexico game a smooth ride:
1 – Offensive line
Army is not an especially strong team this year (the Black Knights were an elite team a few years ago, but not in 2022). Yet, the Black Knights contained the Falcons for 60 minutes. We can chalk up that result to rivalry-game passions and the pride service-academy football players bring to the gridiron. It remains, however, that Air Force's offensive line has struggled to achieve territorial dominance in October and early November. The offense thrived against weak September opponents – Northern Iowa, Colorado, and Nevada – but the Academy hasn't lit up the scoreboard very much over the past five weeks, UNLV being the one obvious exception. This offensive line needs to develop in the final month of the season, not only for the sake of this 2022 team, but for developing players on the path to 2023 and beyond.
2 – Big plays
Air Force was put in a phone booth by Army, and it was similarly true against Navy, Boise State, and Wyoming. This offense has not been able to find game-breaking plays nearly as often as it expects to. New Mexico needs to be the get-well tonic for this offense, which can use this game as a springboard toward better production down the stretch.
3 – More of what works
The Air Force defense has been fantastic in 2022. We already discussed the two terrific efforts in the CIC Trophy series this year. That effort has to carry over into the New Mexico game. It reinforces the larger theme for the Falcons in this contest: Don't take the outcome – or the Lobos – for granted.
…