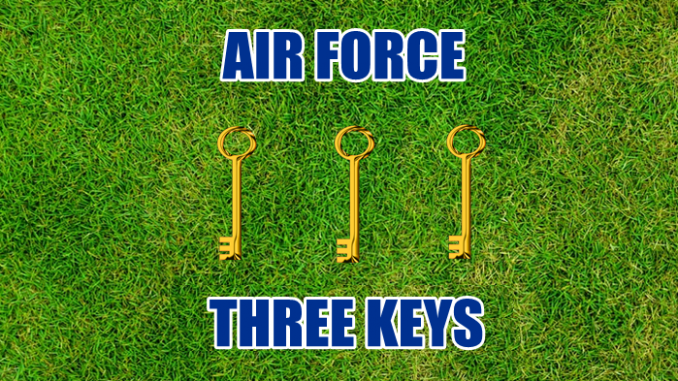 The Air Force Falcons are back in Colorado Springs on Saturday after a hugely impressive 56-26 win at Hawaii last Saturday. They face a dangerous Utah State team that is tied with Boise State at the top of the MW Conference, Mountain Division.
By Steve Wright
Here are the three keys:
Overwhelm on offense
Utah State may be one of the top teams in the MWC right now, but they haven't really played anyone of note yet in conference play. The Aggies are a good, solid squad, but if the Air Force offensive machine gets rolling then Utah State simply won't be able to keep up with the scoring pace.
Air Force is the top scoring offense in the league as they average 37.4 points per game thanks to their rushing attack that at 304.6 yards per game is the second best in the country. Feed the backs, take the QB runs when they are available, and simply overwhelm Utah State with the power and precision of the triple-option.
Keep Jordan Love down
Jordan Love was supposed to be a dark horse candidate for the Heisman Trophy. The Aggies quarterback is certainly a star, but his play over the last three weeks has been far from at that level. Against Colorado State he went for 204 yards a pair of touchdowns and two picks. Then playing LSU – admittedly one of the best defenses in the country – he went for 130 yards and three picks with no scores.
Last week against Nevada – a team that is certainly not one of the best defenses in the country – Love went 13-of-31 for 169 yards with a pick and a score. His confidence is shaken, so Air Force needs to pressure Love early and keep him off of his A game.
Feed off of the home crowd
Air Force is generally good at home even when the team is bad. Since 2014 the team has gone 27-6 at Falcon Stadium and a big reason for that is the synergy between the players and the crowd.
Utah State has got to this point on the back of home performances and a light schedule to start the year. The Falcons need the crowd to be loud when they are on defense, unsettling the Aggies and causing them communication problems. The defense – ranked 30th in the country in total defense – is going to have a monster day here.