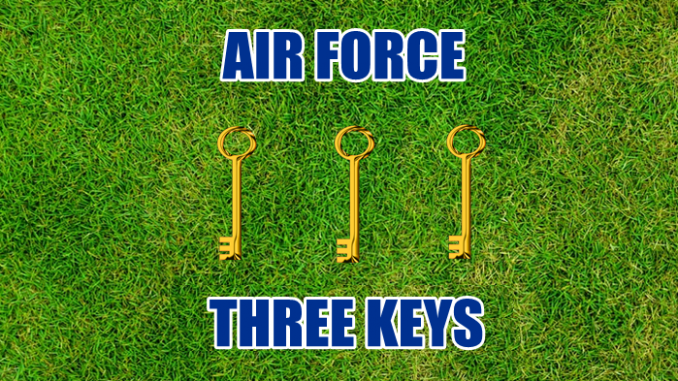 The Air Force Falcons need Utah State to stumble in the final weeks of the Mountain West season if they are to have any chance of winning the MW Mountain Division, but they can't control that.
What they can control is winning out to get to 9-3 after 12 regular-season games, which would give the Falcons a chance to win 10 games this year. Two more regular-season wins plus a bowl victory would give Troy Calhoun 10 victories. Everyone in the locker room could feel good about that season after the disrupted pandemic season in 2020.
This Friday night game in Reno against the Nevada Wolf Pack will be very difficult. This team Packs a punch thanks to promising NFL draft prospect Carson Strong, who could rise up the board in what is generally viewed as a weak and underperforming quarterback class. If Air Force wins here, the bad taste of this year's tougher losses might not be fully washed away, but it would be easier for the Falcons to take, knowing they took several gut punches but were able to shake them off and score some impressive wins.
1 – Strong against Strong
Containing Carson Strong is the battle for Air Force, just as it is for any Nevada opponent. San Diego State was able to do this well last week, when the Aztecs took a big step toward the West Division championship in the Mountain West. The main key is to force Strong to be patient, making him dink and dunk the ball down the field and shutting off the home-run pass. Getting good pressure from a base package, without having to blitz, is a cornerstone component of a good defensive plan against Strong. Nevada hasn't been regularly explosive in 2021. The offense is always dangerous, but a number of Nevada opponents have been able to withstand the onslaught. Air Force needs to join San Diego State and the other teams which have successfully prevented Strong from having a field day this season.
2 – Double trouble? Doubs trouble
Romeo Doubs is easily Carson Strong's favorite target, with 64 catches for 853 yards on the season. When Strong needs a big play, that's his guy. Air Force needs to stay with Doubs all night. It will be interesting to see if the Falcons double Doubs or can hang with him in man-to-man coverage. On third down and long, you might see an occasional double-team, but in down-and-distance situations which aren't clear passing situations, AFA will not be able to overcommit. Finding the right balance and not losing track of other Nevada receivers will be a central key to victory.
3 – Building off last week
The offense finished drives against Colorado State, something we had not seen with great consistency in previous weeks. Against Carson Strong, 35 more points might be needed to win, maybe even 42. This could be a shootout, and the Falcons can't waste any possessions against an offense with Nevada's potency.