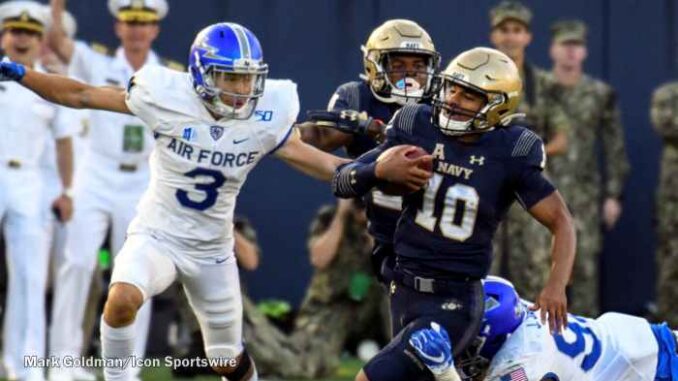 In looking at the coming year of service academy football, one cannot ignore the recent trend in favor of defenses at the academies.
In 2020, one could have chalked up the dominance of defense to the pandemic and its disruptive effects on coaching, practice time, and the general ability of offenses to find enough rhythm, fluidity, and consistency. In 2021, though, the defenses remained in control of the Commander-In-Chief's Trophy series. If one's an accident and two's a trend, we are now in the midst of a trend in academy football. Defenses are ascendant.
This is not a world in which Malcolm Perry or Keenan Reynolds are leading the Navy offense, or in which Army is hanging 70 points on Houston in the Armed Forces Bowl, or in which Air Force is regularly getting into 41-38 Mountain West shootouts.
Last year, Air Force and Army had one really bad defensive game … but only one. Navy had a losing season in 2021, but its defense was consistently strong. In the 2021 Commander-In-Chief's Trophy series, none of the three games produced more than 30 points in regulation time. Army beat Air Force 21-14, but that was a 14-14 game at the end of 60 minutes. Army scored in overtime to win. Air Force beat Navy 23-3. Navy defeated Army 17-13. This follows a 2020 season in which two CIC Trophy games did not produce more than 17 total points, and a third game was a 40-7 wipeout (Air Force over Navy).
Remember when Navy and Air Force played shootouts? A decade ago, Army-Air Force games usually scored more than 50 points. Now it's hard to think they'll reach 40 points.
It all raises the question: Will offenses make a comeback in academy football?
Before we continue, let's establish this much: This is not a crisis, at least not at Army or Air Force. The Black Knights and Falcons produced solidly successful seasons in 2021, translating great defense into meaningful results and maintaining the standard those two programs expect. This matter is much more urgent at the Naval Academy, where Ken Niumatalolo has just endured two miserable seasons in consecutive years, something he had never previously endured in Annapolis. Navy has more to prove than Army or Air Force, if we're going to compare the academy programs.
However: It's not as though offense is never going to return. It's just a matter of when … but will "when?" be sooner or later? That's the real query here. It's urgent for Navy, and it's certainly important for Army and Air Force.
We have already mentioned that all three academy games in 2021 were defense-first slugfests, but when these three teams ventured outside the CIC Trophy series, they all absorbed tough losses because their offenses got stuck in the mud for a whole game and couldn't break free. Army encountered this fate against Miami-Ohio and Navy. Air Force fell victim to this reality against San Diego State and Army. Navy? It was a season-long problem for the Midshipmen. We could chalk up these failures to the quarterbacks and the offensive lines, and we could allow ourselves to say (with some truth) that it's simply a bad cycle for offensive personnel. We could also assign a degree of offensive line regression to the pandemic and its effects on player development. There's some truth there, surely.
Yet, those explanations are too simplistic in and of themselves. They cover part of the truth, but not all of it.
The deeper question is this: If this is just a bad cycle for offenses, how come all three academy programs have been hit with a bad cycle at the same time? It's true that the pandemic is a point of commonality which affected many programs, not just the academies, but it remains notable that none of these programs truly broke free and busted loose on offense last year. It brings up the point that if any of the academies can make a big leap on offense this year, improving upon 2021 stats to a dramatic extent and not just to a slight degree, they could compensate for other flaws and enjoy a big year. There's a lot of upside for any academy team which can solve this puzzle in 2022.
Troy Calhoun, Jeff Monken, and Ken Niumatalolo have all established themselves as high-level coaches. They built something, they sustained it, and they have all shown they can rebound from a bad year to produce great seasons. They wouldn't be where they are in the coaching profession if they couldn't make structural and tactical adjustments and found ways to bounce back after seasons which didn't break in their favor. This brings us back to the point that while they're bound to figure things out at some point, will that moment come sooner rather than later?
This is where a fresh plot twist emerges for these schools: realignment.
Several AAC schools will soon leave for the Big 12. There has been industry chatter that San Diego State might be first in line to move to the Pac-12 if the Pac wants to expand. Notre Dame wants to preserve its independent status, but some industry experts aren't entirely convinced the Fighting Irish will permanently remain an independent, given the massive oceans of cash waiting for the school if it joins a power conference. The composition of Navy's conference will soon change. It could change for Air Force. Army might be on more of an island as an independent. With these swirling winds of change blowing through the college football world, one never knows what it might mean to deliver a high-impact season in 2022.
This is why the "now or later?" question carries so much weight. All three academy schools and their coaches are going to solve their offensive limitations, but the key point is that solving them in 2022, not 2024, could make a difference for these programs in ways we cannot yet predict or see. It will be fascinating to see not only if offense makes a comeback in the academies, but if it happens this year … and opens the door to some unexpected possibilities.