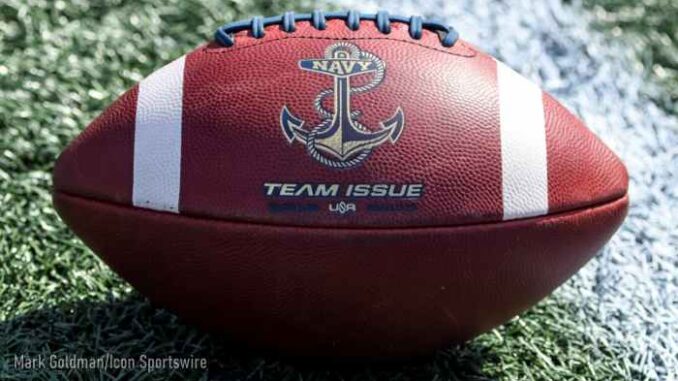 There was just one game in the world of service academy football this past weekend, and it didn't even occur on a Saturday.
Navy played Friday night and did something which should change the way the Midshipmen view themselves heading into November and, for that matter, the 2022 season. Meanwhile, Air Force and Army both rested in preparation for their big Commander-In-Chief's Trophy game on Nov. 6 at a neutral site in Arlington, Texas.
We start with Navy. The Midshipmen were 11-point underdogs to the Tulsa Golden Hurricane. This did not make much sense, since Tulsa has struggled this year without Zaven Collins, the elite linebacker who was drafted by the NFL's Arizona Cardinals. Collins was a one-man wrecking crew and a difference-making player who led Tulsa to the AAC Championship Game last season. The Golden Hurricane put up a good fight against Cincinnati before falling just short. Tulsa without Collins this year has been a much weaker team. Vegas probably felt Tulsa deserved to be such a heavy favorite because Tulsa beat Memphis, whereas Navy lost decisively at Memphis. That Navy-Memphis game was played on a weeknight, and Navy didn't provide a crisp performance.
One could reasonably say that Tulsa wasn't necessarily trusted so much as Navy was doubted. After the Midshipmen put together a valiant effort and a very strong defensive performance against Cincinnati, the No. 2 team in the nation, it was easy to think that Navy would let down its guard on a long road trip combined with a short week. Maybe that's why Tulsa was viewed by the oddsmakers as such a strong choice.
Navy had other ideas.
The Midshipmen played a nearly perfect defensive game. They allowed one 78-yard run to Tulsa star Anthony Watkins. Other than that one play, they allowed just 216 yards of total offense to the Golden Hurricane and kept them under wraps nearly the whole night. One of Tulsa's two touchdowns was a Watkins kickoff return. The only touchdown scored by Tulsa's offense didn't occur until the Midshipmen led by 10 in the final minutes.
Navy's defense – so good against Cincinnati and SMU this year, playing well against elite competition – was able to handle a Tulsa offense which didn't pose any threat beyond Watkins himself. Navy held the Golden Hurricane to 4 of 11 third-down conversions, stopping Tulsa on a fourth-down attempt as well, and forcing two turnovers. Navy was able to use its defensive prowess to control the ball and tempo. Navy held the ball for over 37 minutes in this game, exactly where Ken Niumatalolo wants the time of possession to be.
Tai Lavatai led three ball-control scoring drives in the second half. Navy scored 17 points after halftime, and after Watkins' kick return put Navy in a 10-3 hole. Navy's performance was poised, steady, efficient, and physically superior. On a short week with a long road trip – and a post-Cincinnati letdown factor being part of the chatter leading up to kickoff on Friday night – Navy could not have responded in a better, more steely and controlled way.
Now the Midshipmen prepare for Notre Dame, which will be another very heavy lift for this team in what has been a challenging schedule. There is a softer patch waiting in mid-November with East Carolina and Temple around the bend, but Navy has to play one more really tough game before its home stretch.
Army and Air Force will prepare for a neutral-site meeting instead of an on-campus game. The plot twist is that this neutral site isn't very close to both campuses the way the Army-Navy Game is usually played in Philadelphia, sometimes in Baltimore or New Jersey. This game recalls the time when Army and Navy played their game in Pasadena, California (in 1983), with both teams having to make a long commute. Arlington isn't a massive commute for Air Force, but it isn't a short train or bus ride; it's longer than that. It will be fascinating to see what kind of feel this game creates at a distinctly different location which creates a different experience for everyone involved.
Heading into this Army-Air Force game, the two teams offer a study in contrasts despite their obvious stylistic similarities centered around the desire to run the ball and control the clock. Army has shown more offensive potency, scoring 56 points against a Wake Forest team which might go unbeaten this year. Air Force has the greater defensive chops, having clamped down for most of the season with the sole exception of a 49-45 loss to Utah State. Army won a defensive slugfest last season, but this year, the Black Knights might be the team better served by a high-scoring game. Air Force, whose offense has not been particularly consistent this year and has been held below 30 points on several occasions, might benefit more from a close-to-the-vest game in which most of the action occurs between the tackles and fewer plays are made on the perimeter. Army is trying to keep the Commander-In-Chief's Trophy, but Air Force – having already beaten Navy – will win back the CIC Trophy.
Air Force is in the middle of a push to win the Mountain West's Mountain Division championship and earn a berth in the Mountain West Championship Game, but winning the CIC Trophy is a centerpiece goal of every Air Force season. The Falcons and their opponents from West Point will create a lifelong memory on Saturday, deep in the heart of Texas. Air Force and Army hope these memories are ones they will be glad to carry with them, as opposed to the stinging mind's camera of a fumble which got away or a touchdown pass which skipped off a few fingertips.
One added plot twist: Kickoff is just after 10:30 a.m. local time in Arlington. Military discipline will pay off for two teams which will eat a very early pregame meal and will need to be fully awake when kickoff time arrives on Saturday in Jerry Jones' ballpark.