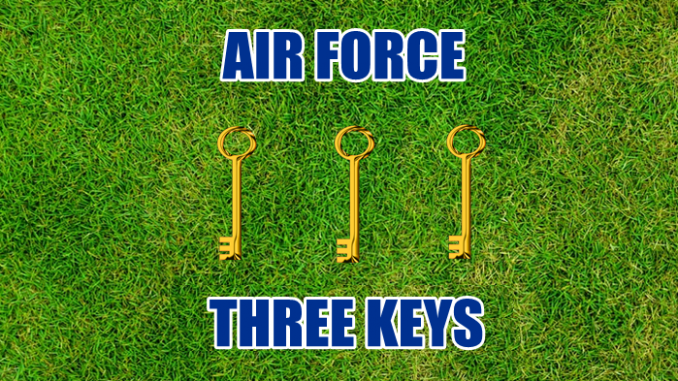 The Air Force Falcons have had a difficult season. Yet, for all of their struggles, they are still in a very good position to win the Mountain West's Mountain Division and move to the Mountain West Championship Game in December.
By Matt Zemek
If they can beat Colorado State, they will be in prime position to win the division and play for a conference title. That would be a significant achievement, even though the Commander-In-Chief's Trophy slipped away from their grasp this past weekend against Army. Let's look at what the Falcons need to do to beat CSU in this in-state battle:
1 – Offensive line has to find a higher level
It was so bizarre to see Air Force and Army struggle to run the ball. Both the Falcons and Black Knights got most of their offense from the passing game, which is unheard of in a clash between two service academy teams. Neither side could establish the run with much consistency this past Saturday in Texas. Air Force had to resort to the pass to move the ball. We saw Air Force fall short against San Diego State because it couldn't win the battle at the line of scrimmage, and had to use the passing game more than it would have preferred. Air Force doesn't mind throwing the ball as a surprise tactic, having already established the running game and getting the linebackers close to the line of scrimmage in the tackle box, then throwing over the top for a big play. That's how the Troy Calhoun offense is supposed to work. Having to throw as the main method of advancing the ball is a completely different reality, and it is not at all what Calhoun wants or hopes for. The offensive line needs to dramatically elevate its level of play so that Air Force can get back to its bread and butter: second down and four or five, third down and one or two, pounding out first downs on the ground. Air Force wasn't able to do that against Army or San Diego State, and that has to change against Colorado State this weekend.
2 – Fourth down execution
This was another problem against Army which was also seen against San Diego State. On the biggest plays of the game, AFA's offense just doesn't function well. Someone misses a blocking assignment, or the snap isn't handled well – something goes wrong. The best teams play their best in the most important moments. Air Force hasn't done that. It's time to change that dynamic against CSU.
3 – Complementary football
Coaches always talk about complementary football – all three units helping each other out. The Air Force defense has been great since the Utah State loss. That was a day when the offense thrived but didn't receive enough help. The Army and San Diego State losses were both games in which the defense played well enough to win but didn't get help. It's time for the offense to pick up the defense and put together a game in which every AFA unit does its part. Easy to say, hard to do, but entirely necessary if victory is to be achieved against the Rams.