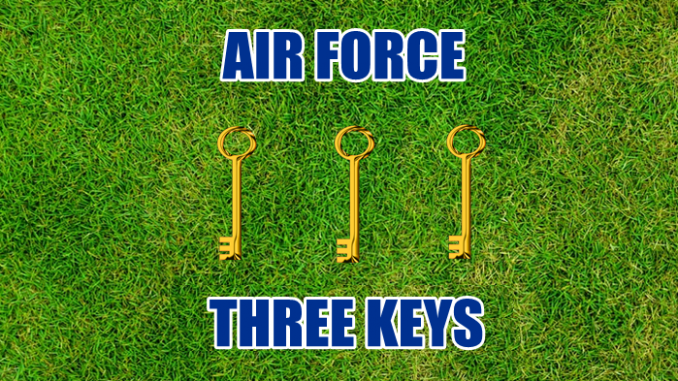 The Air Force Falcons received a Christmas gift one month early. They watched the Wyoming Cowboys' offense – which had been dreadful for two and a half months – suddenly wake up and deliver a blowtorch to the Utah State Aggies.
By Matt Zemek
That Wyoming upset of USU has created a three-way tie atop the Mountain West Conference's Mountain Division. Given that Air Force defeated Boise State, and that Boise State defeated Utah State earlier in the season, a three-way tiebreaker in the Mountain Division goes to Air Force, even though the Falcons lost to USU earlier in the season.
The reality is simple for the Falcons: If they beat UNLV on Friday afternoon in Colorado Springs, and Boise State defeats San Diego State on Friday morning in California (yes, it's a morning game on the West Coast, with a 9 a.m. local time kickoff), the Falcons will win the Mountain Division championship. Boise State, by beating San Diego State, would maintain the three-way tie. If BSU loses to the Aztecs, then Utah State's head-to-head win over Air Force would be the trump card in a two-team tiebreaker. Boise State can maintain the three-way tie in which Air Force gets the nod.
Because the Boise State-San Diego State game is a morning game, Air Force will know where it stands when it takes the field, barring overtime in California. Even if that game doesn't unfold the way the Falcons hope it will, Air Force is still playing for a nine-win regular season and a chance to win 10 games this year. Let's look at some keys:
1 – Contain Jacoby Windmon
UNLV's Jacoby Windmon consistently got into the San Diego State backfield last week, terrorizing the Aztecs' offense. SDSU won that game 28-20, but seven of the Aztecs' points were on a pick-six. San Diego State did not move the ball consistently on UNLV's defense, scoring only seven points after halftime. Air Force has to account for Windmon at all times. If it can bottle him up, the Falcons should have a productive day on offense.
2 – Limit UNLV's big pass plays
UNLV backup quarterback Justin Rogers hit several long downfield pass plays against a normally disciplined San Diego State defense. The Aztecs have usually shut down the big play, but Rogers was able to slice and dice them more than other quarterbacks who have faced San Diego State this season. Air Force can't suffer coverage breakdowns against UNLV's receivers. Rogers has shown he will hit the open man.
3 – Respect UNLV
This UNLV team is not the same as the one which stumbled through the first two months of the season. UNLV has won two of its last three games, and it pushed San Diego State hard the whole way. These are not the listless Rebels of late September and early October. Air Force – after an emotionally draining win over Nevada – can't jog through this game. Finish the mission, especially if Boise State beats San Diego State and makes the Mountain Division winnable.